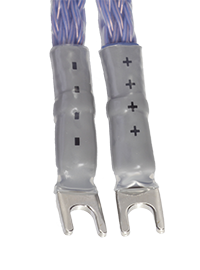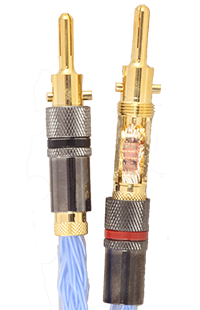 Available Terminations:
The Iconoclast speaker cable isn't particularly suited to bare-wire termination, as the strands are unruly to manage. Accordingly, we offer a couple of types of termination which will work with the great majority of speaker binding posts.
For these terminations, we use our own special method: ultrasonic welding. Where gas or arc welding result in high heat, which can damage cable and connectors, ultrasonic welding takes place near room temperature, fusing metal to metal by intense vibration with less resultant heat than one would get from soldering. The welded joint is strong, has extremely low contact resistance, excludes oxygen very effectively, and does not introduce any other material to the joint -- the copper wire is fused right to the connector.
Our welded spade lugs are made of rhodium-plated copper, and come in three sizes: a 6.3mm opening, a 7.0mm opening, and a 9.2mm opening. The smallest spade fits the majority of binding posts, but some are a bit over-sized and need the medium; still others that are beefier require the largest. The spade is angled at about 25 degrees from the axis of the cable, but because these are made of copper they will tolerate a bend -- so if you need to change the angle, a couple of minutes with a couple of pairs of pliers will do the trick.
For tighter post configurations, or for those who simply prefer them, we also offer banana plugs, made from brass and plated with gold. These are the same "locking type" banana plugs you may have seen on Blue Jeans Cable products. The plug's locking feature -- enabled by turning the outer collar after the plug has been inserted in the binding post -- ensures tight, mechanically stable engagement with the post.
Deciding What Terminations You Need: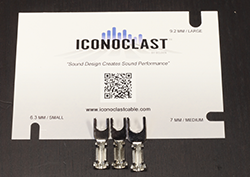 What style of termination to go with? Well, our preference, barring a lack of room to accommodate them, is for spade lugs; when correctly fitted, these will give you the greatest contact surface and most durable connection. We've found that people find binding posts hard to measure -- you can check yours with calipers if you have a set, but if you aren't sure what size of posts you have, give us a call and we will send you our free spade-sizing card. It has cutouts for our three spade sizes and a QR code for the video showing how best to use it to measure your posts. Note that most posts have flattened areas on the stem which, ideally, your spades should line up with for the most secure fit possible.
If you have particular custom requirements -- such as a need to attach to terminal strips, Speakons, or what-have-you, let us know. We try to accommodate custom termination requests whenever possible, usually at no increase in price.
All cables are accompanied by a test report showing final measured values for capacitance, inductance and resistance.